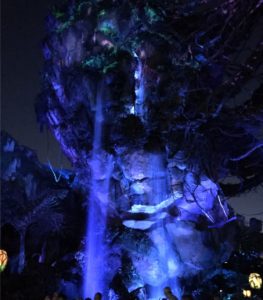 It's been a little over two years since Pandora – The World of Avatar opened at Disney's Animal Kingdom. I thought that it would be fun to talk a little bit about it, now that people know what to expect.
First let's talk about the lines. Even though it's been over two years, the lines for the two rides are still insane. I think that part of the reason is because Avatar – Flight of Passage is just that good. It's the type of ride that really puts you in the middle of the action, and you will have a different experience each time, depending on where you sit. I also think that the fact that the queue is mostly indoors doesn't hurt either. If you have to wait in line, waiting in the AC is always desirable! The queue itself is part of the attraction, which also helps with the ride's popularity. I see something different each time I go through the line, and I've been lucky enough to ride this one a fair amount.
The line also tends to still be long for Na'vi River Journey. This one baffles me a little bit. Don't get me wrong, it's a nice ride, but I honestly don't think that it's worth an hour or more wait. Then again, if you have never ridden it, do it! It's a beautiful ride, and it's good for all ages.
Satu'li Canteen is a fantastic quick service option, especially if you're looking for something a little bit different. The menu has changed slightly since the land opened, but the create your own bowl option remains popular. Eating at a slightly off hour is a good idea, because it can be quite crowded at traditional meal times.
Windtraders is still a fun place to buy souvenirs. When the land first opened they quickly ran out of the interactive banshees, but that problem has passed. If you want to take home a banshee of your very own, you will have plenty to choose from.
Pandora – The World of Avatar remains one of my favorite places to visit it night. At night the area literally lights up, and the effects are stunning. Make sure you don't visit only during the day. I like to stay as late as possible, after the crowd has thinned out a bit. The sounds are a part of Pandora that most people will not even notice, but they add to the experience.
Pandora – The World of Avatar continues to impress Walt Disney World guests. You don't have to be an Avatar fan to enjoy it. I have never seen the movie and know very little about what the story, and I am still in awe whenever I stop by.