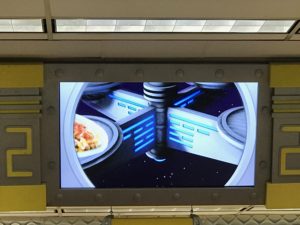 I'm going to let you in on a little secret. If you are at a Walt Disney World restaurant, there might be more to the menu than what you see. Some restaurants at both Walt Disney World and at Disneyland have secret menus. You will not find the items listed on the Walt Disney World website, the My Disney Experience App, or on the menu board. You have to ask for the secret menu.
The problem with the secret menus is that the locations do change, so it can be hard to keep up with what is available. The best bet is to ask if there is a secret menu when you arrive at a restaurant. You can also do some research. Try #secretmenu or #disneysecretmenu on social media and see what pops up. I know that Cosmic Ray's Starlight Café has had a secret menu in the past, as have Pecos Bill Tall Tale Inn & Café, and D-Luxe Burger at Disney Springs. There are more.
Many people will tell you that the best secret menu is found at World Premiere Food Court. That's located at Disney's All Star Movies Resort. If you ask for the secret menu there it will be brought to you in a brief case. Inside the case is a View Master, which you'll need to see the menu. On the secret menu is a bacon cheeseburger that is served on a cinnamon roll. There are a couple of other items on the menu, but the burger is the most popular.
Keep in mind that the secret menus are not usually for those who are not adventurous eaters. They feature strange combinations that you probably would never put together on your own. Strangely, these combinations work.
The next time you're eating at Walt Disney World or Disneyland, ask if there is a secret menu. If there isn't one, ask the Cast Member is he or she knows where there is one. You might find something delicious that will have the people around you wondering where you got it.