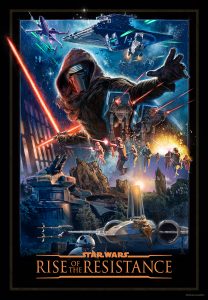 Star Wars: Galaxy's Edge has been open for a few weeks at Disneyland, and will open on August 29 at Disney's Hollywood Studios. There has been one major thing missing from the incredible planet of Batuu; the second attraction. We still need to wait, but not for all that long.
Disney Parks Blog has announced that the Disney's Hollywood Studios version of Star Wars: Rise of the Resistance will open on Thursday, December 5. That also happens to be Walt Disney's 118th birthday. The Disneyland version will open later. The date for that will be Friday, January 17, 2020.
At first I was a little bit surprised that Walt Disney World guests will be able to enjoy the ride first, since Galaxy's Edge is already open in California. Then I started to think about it, and it makes sense. The Christmas Season is huge at Walt Disney World. Why not give people who are trying to decide if they want to visit this holiday season yet another reason to come? It also looks like a lot of the same team is working on the ride on both coasts. That's why the two versions are not opening at the same time.
If you've been putting off making your holiday vacation plans, you might want to book sooner rather than later. Remember that the price for an Annual Pass shot way up the day after it was announced that some levels of Passholders will have Galaxy's Edge Previews. If you wait to book your trip, you might end up paying more.
I can't remember ever being as excited about a ride as I am Rise of the Resistance. It's supposed to pull guests deep into the story in a whole new way. If more information becomes available, I'll let you know.