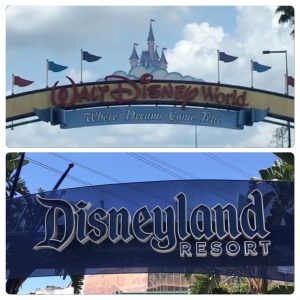 There is one question that I have heard a lot lately. Quite honestly, it should not be asked, because there is no right answer. The question is "Which is better, Disneyland or Walt Disney World?" I do not think that one is better than the other. I think deciding which you should visit depends on what you are looking for as far as your vacation goes.
There is certainly more to do at Walt Disney World. It has twice as many theme parks, and two water parks. Disney Springs is a destination in its own right. There are plenty of hotels, and they range from value to lavish. There's even a campground! You could spend a month at Walt Disney World, never leave property, and still have a list of things that you never got around to doing. I've lived here for years and there are plenty of things that I haven't done yet.
Disneyland is smaller. There are only the two theme parks, and Downtown Disney isn't as much of a must-do. Sometimes, though, smaller is better. You can walk from one park to the other in just a couple of minutes. There are only three on property hotels, but there are many hotels in the area that are within walking distance. My daughter and I have been to Disneyland twice in the past couple of years. Except for getting to and from the airport, we never needed a ride or a car, even staying off property.
When at Disneyland Park, you'll be walking where Walt walked. There is something special about doing that. Then again, Walt Disney World was his vision for the future. Not everything was created according to his plans, but I think that there is a lot in Florida that he would be proud of.
There are some rides that you'll find at both Disneyland and Walt Disney World. Just because the ride has the same name doesn't mean that it is the same ride! Space Mountain is a perfect example. The building may look the same on the outside, but it's a different ride. I personally prefer the Disneyland version, especially when they have the Hyperspace Mountain overlay. It is so much fun!
My advice is to visit both Walt Disney World and Disneyland at some point if you love Disney. Disneyland doesn't need as much time, so plan either a more relaxed vacation or include some of the other offerings in the area (there is plenty to do!). Walt Disney World needs more time to hit all the highlights, making it perfect for a weeklong vacation. Either way, you can't go wrong. Just don't ask which is better, because they are both magical.