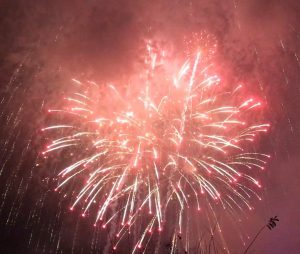 While most of the theme parks in the Orlando area have fireworks to celebrate Independence Day, you can also watch the sky light up away from the theme parks. There are several spectacular shows in Central Florida on either July 3 or 4.
The best known show on July 3 takes place at Cranes Roost, which is in Altamonte Springs. It is called Red Hot & Boom, and it is one of the most popular fireworks displays in the area. There is live music and other fun leading up to the show, and then the fireworks take place at 9:30. You will want to arrive early, and make sure you packed your patience when it's time to leave because it could take a while.
Red Hot & Boom is not the only July 3 fireworks display in the area. Freedom on the Waterfront will take place at Elizabeth Evans Park in Mount Dora. There will be live music, and the fireworks will take place once the sun goes down. Another place where you can see fireworks on July 3 will be Baldwin Park. The Baldwin Park Independence Day Bash will begin at 6:00, and the fireworks will be held at 9:15.
On Independence Day itself the largest display is held in downtown Orlando. Fireworks at the Fountain will be held over Lake Eola. Streets will be blocked off, so make sure you know where you're going before you head out, and write down where you parked your car! The event begins at 4:00, and the fireworks will take place at 10:00. They will be broadcast live on WKMG, Channel 6.
While Fireworks at the Fountain is the best known display on the 4th of July in Central Florida, several other towns and areas will also have fireworks. You can find celebrations in Sanford, Winter Springs, Oviedo, Avalon Park, Winter Garden, and Clermont. There could also be some that I missed. If you're looking for fireworks, you can easily find them on July 3 and 4.