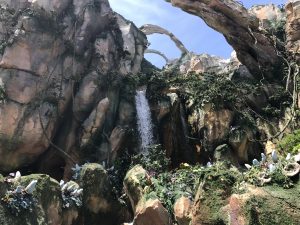 Recently I was able to get a last minute FastPass+ for Avatar Flight of Passage, and I just couldn't turn that down! There was a 140 minute wait, but that didn't matter to me, since I wasn't going Standby. I went to the park specifically because I had the reservation, I love being local.
Anyway, I had a middle seat on the bottom level, which is my favorite place for Flight of Passage. I was excited. Flight of Passage is one of my favorite rides at Walt Disney World, but it had been a while since I had been on it. The couple to my right argued rather loudly as we were waiting for the Cast Member to check the restraints, but they would be quiet during the ride, right? Wrong! They yelled back and forth the entire time!
To make matters worse, the two people on my left talked the whole ride as well. They weren't arguing, but they were loud. At least they were talking about the ride, but it wasn't necessary to scream "look over there" every time something new happened.
That brings me to my pet peeve; people who talk loudly on a ride. I'm not saying that people can't talk, but please, keep your voices down! The people on the ride with me did not know that I've ridden Flight of Passage dozens of times, that I live minutes away, or that I had FastPass+. For all they knew it was my first time riding, I waited for 140 minutes, and I drove 1,000 miles to get to Walt Disney World. If this had been my only time riding I would have been pretty upset.
This happens all too often. Not all that long ago my daughter and I rode Frozen Ever After, which is another ride that usually has a long wait. We had a mother with her young daughter seated behind us. Our entire ride was filled with the mother screaming, "look, it's Elsa!" or "Olaf wants a warm hug!" When we got to the song, both mother and daughter sang Let It Go at the top of their lungs. I remember this well because we wanted to record the ride, but this mother and daughter ruined the opportunity for us.
I'm not saying that anyone who is reading this would ever behave that way. And again, I am not saying that people can't talk quietly on a ride. What would be nice, though, is if people would just not be so rude. The ride is supposed to be fun for everyone on it, not just one or two people. Parents need to teach their kids to use indoor voices, and adults need to keep in mind that everyone around them is also paying a boatload of money to be there. So please, keep your voices down; unless you're on Tower of Terror. Then you can scream and yell as loud as you want.