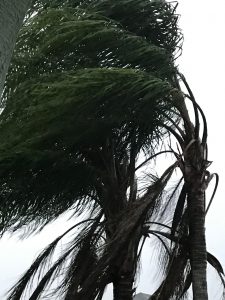 It's Hurricane Season again here in Florida. That does not mean that you should put off planning a trip to Walt Disney World. The Hurricane Season runs from June 1 until November 30. That's half of the year! You want more flexibility than that when planning, especially with Star Wars: Galaxy's Edge opening smack dab in the middle of Hurricane Season.
If you're worried about hurricanes, the peak day for them here is September 10, so you might not want to plan your trip for a few weeks before or after that date. Personally, I wouldn't let the thought of it being Hurricane Season stop me from planning what could be the trip of a lifetime. Plan your trip for when it is most convenient for you.
One thing that I will advise if you are planning a trip in the next few months is to buy travel insurance, especially if you're flying. The airlines will allow you to change without a fee under certain conditions if you don't have insurance, but that's usually last minute. With travel insurance, you can change your plans more easily if it looks like there is a threat of a storm.
The one thing that I will always say when planning a vacation is that you need to keep an eye on the weather. This is especially true during Hurricane Season, but it is a good idea no matter when you plan to visit Walt Disney World. Florida weather is all over the place. Each summer I'll see tourists who complain that they didn't know that there are daily storms in The Sunshine State. Each winter there are tourists wearing shorts and flip flops, obviously cold. Check the forecast right up until you leave so that you will be prepared for anything.