I'd like to take a moment to talk about the Disney Skyliner. If you follow Disney Over 50 on Facebook or Instagram, you already know that I'm a bit obsessed. When I heard that the gondolas between Disney's Hollywood Studios and Disney's Caribbean Beach Resort were all unwrapped and testing almost non-stop, I drove to DHS specifically to watch for a while. (I'd probably still be there if the lovebugs hadn't been so annoying!) The fact that guests can now see the Disney Skyliner how it will be running when it is a full blown transportation system has the rumor mill in overdrive. I'd like to try to dispel one of these rumors.
The main rumor that I have heard several times over the past 24 hours is that the Skyliner is going to be accepting guests in the next few days. That is not even close to being true. The Skyliner is more than just the gondolas. Remember, you will need to have a place to get on and off of the Skyliner. There is still work being done on the stations. These are active construction zones. They need to be finished and inspected by proper channels before guests are allowed anywhere near them.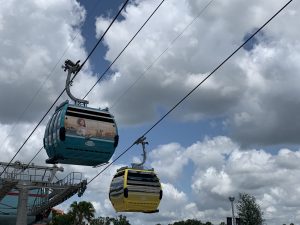 Safety testing is still taking place with the Disney Skyliner, and there was a story on the local news a couple of weeks ago about evacuation training. The gondolas and the lines need to pass rigorous safety tests before the first human being will be allowed to ride. As far as I know, those tests have not started.
Finally, one minor thing that I have heard lately is that all 300 gondolas have been unwrapped. That isn't true either. I stopped by Disney's BoardWalk yesterday and all of the gondolas on that route are still covered. That said, it was exciting to see that they are testing that route!
According to Disney, the Disney Skyliner will begin transporting guests "fall 2019". That doesn't mean next week, and it doesn't mean by the middle of August. I'm sure that they will let us know when there is a definitive date. Until then, I'll be spending more time than I care to admit taking pictures and videos of the Disney Skyliner and adding them to social media. Let's just hope that it will soon be without the lovebugs…