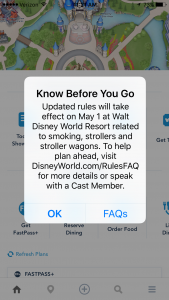 Today (May 1) we celebrated the 30th Anniversary of Disney's Hollywood Studios. That is not all that was going on. It was also the first day of some new regulations at Walt Disney World.
The first change isn't really a new rule (no matter what you've read elsewhere), but today was the first day that it is being enforced. Wagons are no longer allowed in the theme parks. There is also a size limit on strollers. They cannot be larger than 31″ by 52″. I was in the park for a good part of the day to celebrate the 30th Anniversary, and I saw plenty of large strollers. That's because 31″ by 52″ is actually a pretty good sized stroller. Many double strollers are well within the limit. If you're worried about the size of your stroller, I'd suggest looking at a local stroller rental company's website, just for comparison. If you need the name of one, drop me an email, or contact me on Facebook or Instagram. You can look at their pictures, which will give you a better idea of whether or not yours will fit the regulations.
The other change today is the smoking ban. There are no longer smoking areas within the theme parks. There are designated places to smoke outside of the parks. In some cases you might have to go through security again. Smoking includes vaping. I know that a lot of people are upset about the change, but if you smoke, please obey the rules. Today I only saw one person sneaking a cigarette within Disney's Hollywood Studios. That's still one too many. It's a rule, and it needs to be followed.
If you're looking for a smoking area, the easiest way to find one is to pull out your phone. All that you need to do is to search "smoking" on the My Disney Experience App. You'll be able to see where the closest designated smoking area is, and you can search for areas in other places so that you can plan ahead.
For those who were in the parks today and obeying the rules, thank you. Making sure that a stroller isn't too big, smoking only in designated areas, and leaving the wagons behind makes things easier for the Cast Members. They have enough that they need to do, they don't need the extra hassle of dealing with people who are not following the rules.