One complaint that I have heard fairly often since we moved to Central Florida is that Disney does not care enough about its Annual Passholders. Disney must have heard that complaint as well, because they have started what they call V.I.Passholders. One of the major perks is V.I.Passholder Nights. Disney will release some dates, and Gold, Platinum, and Platinum Plus Passholders can pick one of the dates listed. The spots are limited, and they go fast. Those who sign up will get two hours in the park with other Passholders. You can pick only one of the dates each time that they are released.
The first time that they held V.I.Passholder Nights was last August/September/October. The August date was at the Magic Kingdom, the other two at Epcot. My daughter and I went to the first one at Epcot, and we had a great time. I heard that the same couldn't be said for the one at the Magic Kingdom. There were a lot of complaints about the park still being crowded, and the event unorganized.
Earlier this year they had the second round of V.I.Passholder Nights. This time there were two evenings to choose from. We weren't able to go. Once again they were held at the Magic Kingdom and Epcot.
Round three started last night. My daughter and I signed up for the one at the Magic Kingdom. The two other nights, which are still to come, are at Disney's Typhoon Lagoon Water Park this time. Those filled up almost immediately, because Gold and Platinum Passes do not include the water parks, but people with those passes could sign up for the special event.
I was a bit worried about how crowded the Magic Kingdom might be, but there was no reason to be. It wasn't as empty as when we attended the event at Epcot, but it was also the least crowded that I have ever seen the Magic Kingdom. There were lines for Seven Dwarfs and most major rides, so we decided to skip those and hit as many of the shorter lines as we could. I didn't keep track of how many rides we rode, but we felt like we were always getting on something. The longest wait of the night for us was Haunted Mansion, which was posted at 20 minutes but we were on in half that. The biggest surprise was Space Mountain. We hit that at the beginning of our second hour and we walked right on.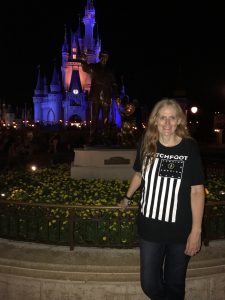 The only drawback to this V.I.Passholder Night was the time. Our two hours didn't start until 11:00pm, which made it a very late night. I think that also kept a lot of people who signed up away, because today is a normal work or school day for most people in this area.
I hope that Disney decides to continue with V.I.Passholder Nights. It's a nice little extra, and it made me feel like they do appreciate me. The Cast Members were all extremely nice for the event as well.