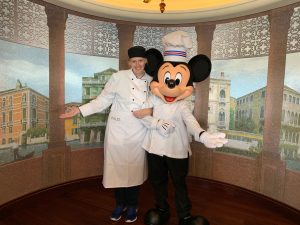 I'm a member of a few cruise related groups on Facebook. There is one thing that I have read several times lately. Someone will say something along the lines of "I'd love to take a Disney cruise, but I don't have any kids". Of course the overwhelming majority of replies tell the person to go anyway!
Let me state right off that I am not an expert cruiser. I was hosted on one five-night Disney cruise, and I have attended two events on the Disney Fantasy. The one cruise made me hungry for more, and once that dream (no Disney Dream pun intended) becomes a reality I can't wait to share with everyone here. Even with my limited experience, I can tell you that you do not need to have kids with you in order to enjoy a Disney cruise.
On our cruise it was my husband, our daughter Tricia, and me. Tricia is 27, she's hardly a child. The three of us had the time of our lives. There are areas that are only for adults, adult only classes, nightclubs, and the like. We had brunch at Palo, but that was the main adult-only experience that we did. We took pictures with characters, we loved rotational dining, we enjoyed the shows, and we had a blast at Castaway Cay. It was a fantastic five nights, we never felt like we would have had a better time with kids there.
Disney is for anyone, age does not matter. The theme parks are awesome without kids, and a Disney cruise is the same way. If you want exceptional service, incredible views, delicious food, and pictures with Mickey, a Disney cruise might be your perfect kid-free vacation. It was for us.