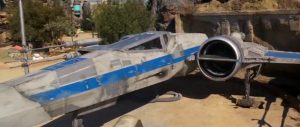 The long anticipated opening of Star Wars: Galaxy's Edge is quickly approaching. The Disney's Hollywood Studios version will open to the public on August 29. We know that the crowds will flock to the park to get a chance to get a glimpse of Batuu. We also know that Millennium Falcon: Smugglers Run will be the only ride open at that time. Star Wars: Rise of the Resistance is going to open sometime later this year. This begs the question, should you wait?
Of course I am going to be there with only one ride open, but I only live a few miles away. Most people do not have that luxury. The majority of guests will need to travel in order to get here. Does it make sense to come early so that you can get a feel for the land? If so, do you then return a few months later once the second ride has opened?
There are rumors that I have heard in several places that Oga's Cantina will not be fully operational on May 31 once Galaxy's Edge opens at Disneyland in California. The rumors state that only beverages will be served, and that guests will be allowed only one hour inside the cantina. As I said, this is still in the rumor category, but I have heard it several places and from some pretty reliable sources. It will stay rumor until I hear something official. One thing to remember, though, is that Disneyland is different. Galaxy's Edge will be the only place within Disneyland Park where alcohol can be consumed, and it will be bought at Oga's. The same cannot be said for Disney's Hollywood Studios. I don't know if that has anything to do with the Oga's rumor or not.
Does it make sense to visit twice? I think that it depends on how far you'll be traveling and just how interested you are in Galaxy's Edge. There are plenty of discount flights to Orlando, for many people a quick trip to check out Galaxy's Edge is possible. (I'll admit that I've considered booking a flight to California so that I can see the Disneyland version before ours opens, but my bank account didn't like that idea.) If you plan two trips, you can ride Smugglers Run on the first one, plus really check out everything else that Galaxy's Edge has to offer. There are going to be surprises around every corner, I don't think that the lack of one ride is going to cause anyone to be bored. The second trip could be specifically to ride Rise of the Resistance.
Then again, even with discount flights, travel is expensive. There aren't discounts from all cities, and if you live in another country the price is even higher. You also need to think about taking time off from work, booking hotels twice, and all of that other fun travel related stuff. For many people, visiting one time is going to make much more sense.
I know people who aren't Star Wars fans who still are excited about Galaxy's Edge. That's because the land is going to be unlike anything that we've ever experienced in a theme park before. Rise of the Resistance is supposed to be one of the best rides ever. If you're not into Star Wars, you might want to wait because the land won't mean as much to you. If you love Star Wars like I do, it will be hard to not visit twice.