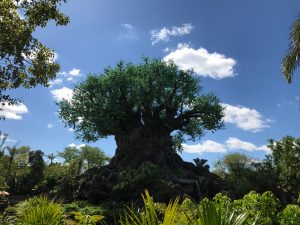 Earth Day is Monday, April 22, but Disney is not going to celebrate for only one day. At Disney's Animal Kingdom, Earth Day is going to be a three day celebration! The fun will begin on Saturday, April 20, and will run through the weekend.
It's called Party for the Planet, and you will notice a difference the moment you enter the park. There will be a penguin sculpture that is made out of marine debris on display. It is to celebrate the Disneynature film Penguins, which is to be released on April 17. There will be special character appearances throughout the park, as well as extra live entertainment. There will also be opportunities to speak with animal care experts and see them at work.
If you'd like to go further in depth, you can sign up for Tiffins Talks. This will be a dining experience with the legendary Joe Rohde, who is the genius behind much of Disney's Animal Kingdom. (I've met Joe Rohde, he's a fascinating man.) Each session of Tiffins Talks will run from 1:00 until 3:00, and it features a four course meal. The cost is $199 per person, and you can make reservations by calling 407-WDW-DINE (407-939-3463).
If you want to meet Joe Rohde but don't have a reservation for Tiffins Talks, he will also be greeting guests on April 20 and 22. He will appear at Mombasa Marketplace, where he will be signing prints of his original artwork. He will be appearing from 10:00 until 11:30, and you will need a wristband. They will be available the day of, and you can pick yours up at Mombasa Marketplace when you buy the print. Get there early, because they will run out of wristbands.
One thing to keep in mind; Party for the Planet is taking place on Easter weekend. Easter this year is on April 21. That said, it's a popular week to visit Walt Disney World because so many schools and businesses are closed. If your Easter plans include a visit to Walt Disney World, make sure you check Party for the Planet out!