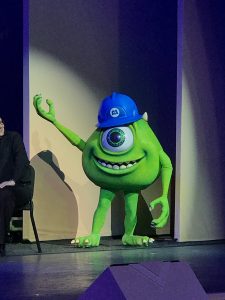 Update: Disney+ will launch on November 12, 2019.
D23, the Official Disney Fan Club, has released some exciting news! A brand new show called Monsters at Work is in the works (pun intended). The show will take place six months after the events in Monsters, Inc., and it will be shown on Disney+. It is expected to be released in 2020.
Several familiar names will lend their voices to the story once again. Billy Crystal and John Goodman will reprise their roles of Mike and Sulley. John Ratzenberger will once again voice the Adorable Snow Monster (sorry, I can't call him Abominable), as well as a new character named Bernard. Jennifer Tilly will once again play the part of Celia, and Bob Peterson will return as well. Peterson will not be playing Roz, he will instead be the voice of Roze. Roze and Roz are twins. Actors who will play new characters include Henry Winkler, Kelly Marie Tran, and Lucas Neff.
The series is going to be family friendly, which shouldn't surprise you if you've seen Monsters, Inc. If you haven't seen the original movie, you need to as soon as possible! It's my personal favorite Pixar film. I think that it has one of the best movie endings of all time.
Disney+ is the Disney streaming service that is in the works. It has been promised that there will be a lot of good stuff on there, including classics that haven't been available for decades. In addition to Disney, it will also be the new home for all things Star Wars, Marvel, Pixar, and National Geographic. Rumors state that they are aiming for a September, 2019 launch.