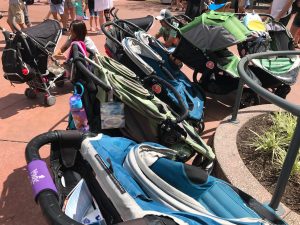 If you visit a Walt Disney World theme park, you will not go far before you see at least one wagon and a stroller that is bigger than a house. Maybe that's a bit of an exaggeration, but the other day I did see a stroller that was designed for six children. While Disney wants things to go as easy as possible for you, technically wagons are forbidden and strollers do have a size limit. 
Starting on May 1, Disney is going to start cracking down on their wagon and stroller rules at both Walt Disney World and also Disneyland in California. Taken directly from the list of prohibited items on the Walt Disney World website: Any trailer-like object that is pushed or towed by an Electronic Conveyance Vehicle, wheelchair or stroller, or pulled by a person, including wagons. As far as prohibited strollers are concerned it says: Strollers larger than 36″ x 52″. If you see a wagon or a stroller that is larger than that while at Walt Disney World, it is against the rules but has been allowed to slide.
I've seen a lot of people argue about wagons. They think that since they see them in the parks that they are allowed. That is not the case at all. It does not mean that they are allowed, it just means that it is a rule that is not currently being enforced. That will change on May 1. Even though some places are reporting that this is a new rule, it isn't. This has been the case for years, they just did not enforce it. 
We all know that crowds are about to grow a lot bigger at Walt Disney World. Not only will Galaxy's Edge bring unprecedented crowds, but the Walt Disney World 50th Anniversary is around the corner in 2021. It makes sense that Disney is going to start enforcing their own stroller and wagon rules.
If you're headed to Walt Disney World with an over sized stroller or a wagon, you have until May 1 to come up with a different plan. After that date, the stroller and wagon rule will be enforced. You've been warned.