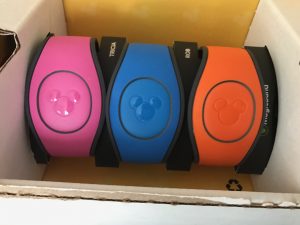 I've heard several questions and misconceptions about MagicBands lately, so I thought that I would address a few things. I want to make sure that you have correct information. If you ever have any questions, feel free to contact me, either here, on Facebook, or on Instagram.  
One of the main misconceptions when it comes to MagicBands is that you need to have one in order to enter any of the Walt Disney World theme parks. This is completely false. You do not need to have a MagicBand, your plastic ticket will do. A MagicBand makes it easier because you will not have to keep pulling out your ticket for entrance or for FastPass+, but you can have a perfectly magical day without one.
MagicBands are not free to all. You will receive one if you are staying on property. You will also receive a MagicBand if you purchase an Annual Pass. Otherwise, you will have to buy one. The cheapest MagicBands cost around $16 each, before tax.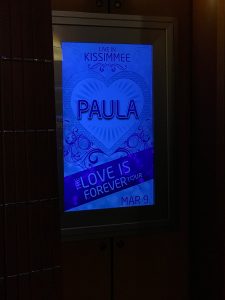 Some people are concerned about MagicBands and privacy. You do not have to use one if you don't want to, even if you are staying on property. If you do not like the extras like seeing your name in lights on a concert poster, don't use a MagicBand. It's as simple as that. If you're staying on property or you're an Annual Passholder, you can decline your MagicBand. It's not a problem.
You can have more than one MagicBand. As long as it is linked to your name on your My Disney Experience account, you can use it. If you like collectible MagicBands or you want a variety of colors, that's fine. If you decide to purchase a new MagicBand while you're at Walt Disney World, a Cast Member can activate it for you. Easy peasy.
One question I hear fairly often is about the MagicBand battery. People want to know how long it will last. I've heard that the "official" word on that is that the battery will last around two years. I have MagicBands that are older than that and they still work, but I still would not want to chance it. If I'm using an older MagicBand I'll have a plastic ticket that's also linked to my account with me, just in case. I've never needed to use it.
Put this one in the category of strong rumor. It's been said that your MagicBand will play a large part in your experience once Star Wars: Galaxy's Edge opens. We already know that how you perform on Smugglers Run will affect other parts of your experience, your MagicBand might have something to do with that. Then again, they don't use MagicBands at Disneyland, so I'm not sure how that will work out there.
Speaking of which, at this time there are no plans to bring MagicBands to Disneyland in California. Adding the technology was a major undertaking here in Florida, and Disneyland works differently. Part of the appeal for MagicBands here is that they make things easier for people who are staying on property. In California, there are only three Disneyland owned hotels. The expense of adding the system does not make good financial sense out there.
I have a bit of a love hate relationship with MagicBands. I love the convenience, but I do find them hot in the middle of the summer (or a warm day in December). I have a tendency to take off my MagicBand and stick it in my bag as soon as I've passed my final FastPass+ checkpoint for the day. That said, it certainly beats having to pull out my ticket for each checkpoint! MagicBands seem to be here to stay, and they are meant to enhance our experience. I wasn't sold on them when they first rolled out, but I can see why some people love them so much. I didn't initially see the need for one, but now I can't imagine hitting Walt Disney World without one. I guess that the convenience outweighs a bit of sweat on my wrist.