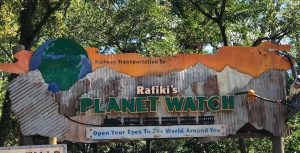 Last October, Rafiki's Planet Watch at Disney's Animal Kingdom closed. Some reports claimed that it was just for refurbishment, while others said that it was closed for good. Fortunately, it was the first. Disney has announced that Rafiki's Planet Watch will reopen this summer.
We don't have an actual date for the reopening. We don't really have that much information at all. We do know that Wildlife Express Train will be open, which isn't surprising since it's the only way to get there. We also know that Affection Section (the petting zoo) will reopen, and we have learned that there will be some changes that will help celebrate the Silver Anniversary of The Lion King.
There is no word on if Habitat Habitat! and Conservation Station will reopen, but they can still be found on the Walt Disney World website. (That doesn't always mean anything.) Also, it has not been said if there will be characters greeting again. Before the refurbishment, Rafiki and Doc McStuffins could be found there. It is worth noting that the character greeting ended before the rest of Rafiki's Planet Watch closed.
This is wonderful news. Rafiki's Planet Watch is a great place to visit when you want to get away from the Pandora lines, and who doesn't love a petting zoo? When I hear more information or learn a date, I'll let you know.