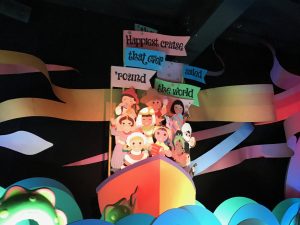 Livestreams through Disney Parks Blog are a fun way to watch the magic from home. Tonight (March 19) they will be livestreaming from Disneyland. We will have the opportunity to experience the new show Mickey's Mix Magic! The broadcast will begin at 9:25 Pacific Time, which means that it will be at 12:25am for those of us on the East Coast.
Mickey's Mix Magic is a nighttime show that takes place at Disneyland Park. It combines projections, lasers, lights, music, and sometimes fireworks. The show lasts about ten minutes. It takes place at several places throughout the park, including Main Street, U.S.A. and on the exterior of It's a Small World. Mickey's Mix Magic debuted on January 18, and it's part of Get Your Ears On – A Mickey and Minnie Celebration. That is the name of the party for Mickey and Minnie's 90th birthdays at Disneyland.
You can catch the livestream of Mickey's Mix Magic on Disney Parks Blog. I will also try to add a link to the Disney Over 50 Facebook page as soon as it is available. One of the nice things about livestreams on the Disney Parks Blog is that they will keep them up for a while after the show has finished. If you miss it live, you will still be able to watch it, sometimes weeks later.