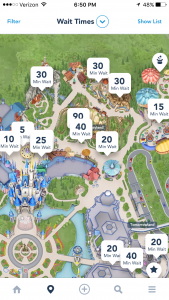 A longtime friend recently said that he wants to visit Walt Disney World, but he's hesitant because of the possibility of long lines. I'm not going to tell him (or anyone) that there won't be lines. Instead, my advice is to not let lines stop you.
You don't have to spend all day waiting in line. First, this is what FastPass+ is all about. That's three lines that you will not have to wait in. But even without FastPass+, you can still have a great time.
At the Magic Kingdom, choose which rides you really don't mind waiting in line for. Even if the wait is long, that does not mean it's a bad thing. Peter Pan's Flight is a perfect example. The standby line winds through the Darling house, and it is so much fun! There are also rides that have much shorter waits. If you're tired of waiting, head to Carousel of Progress or Tomorrowland Transit Authority PeopleMover. These are just a couple of attractions that usually have little or no wait. The My Disney Experience App has current Wait Times on it, so you can better plan where to go and what to ride.
The other parks may not have as many rides as the Magic Kingdom, but that doesn't mean that you will constantly have to wait in line. The live entertainment at Disney's Hollywood Studios (and the rest of Walt Disney World) is fantastic! At Disney's Animal Kingdom, walk the trails. At Epcot, really explore World Showcase. Most people hurry through World Showcase, but if you take your time you'll realize that the details are amazing.
Disney has recently made waiting in line a little more magical. Download the Play Disney Parks App. It has activities and special surprises to help pass the time. It's already been said that the Play Disney Parks App is going to enhance the experience in Star Wars: Galaxy's Edge once it opens, but you don't have to wait until then to discover the fun.
Another tip to avoid lines is to arrive at the right times. The parks are least busy first thing in the morning and late at night. If you don't have FastPass+ for a major attraction like Avatar Flight of Passage or Slinky Dog Dash and it's must-do for you, show up well before the park opens. That will be the best chance you have to ride without an extreme wait.
One more thing. While there are never days without crowds, there are times that are more crowded than others. If schools are out, there will be more people at Walt Disney World. This includes three day weekends. If you want to avoid crowds as much as possible, visit when schools are in session. It's that simple.
Lines are going to be part of your Walt Disney World vacation, but don't let them keep you away. Instead, plan your trip, and come have one of the best vacations ever. You won't regret it.