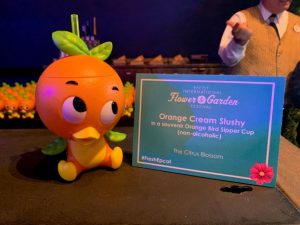 Update! The cups are reportedly sold out, but more have been ordered.
The Orange Bird Sipper Cup is so popular that it is currently being limited to one per paying guest. The adorable souvenir cup can be found at The Citrus Blossom Outdoor Kitchen. It comes with nonalcoholic Orange Cream Slushy inside. If you're interested in purchasing the cup, you might want to make that one of your first stops, because supplies seem to be limited.
Thanks to my friends at Bullseye The Traveling Horse for the tip!