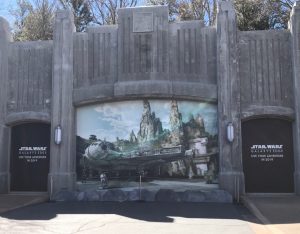 Okay, Disney, I'll admit it. You got me. When it was first announced that Star Wars: Galaxy's Edge was going to open Late Fall 2019, I thought it would be December and would coincide with the opening of Star Wars: Episode IX. Last November I noticed that they had quietly changed the wording on the Walt Disney World website to Fall 2019, they had dropped the word "late". Then Disney announced that Free Dining would run through September 30, and there would also be a special discounted ticket available through the same day. I was sure that meant that the Galaxy's Edge opening would be late October or early November. Today the date was released, August 29. That's not even fall, that's Late Summer!
After I stopped banging my head against the wall/screaming in delight at this bit of news I decided to put together some information about what is going on and share it here. Most of it is official, but some of it is strong rumor.
First the most important facts. Star Wars: Galaxy's Edge will open on May 31 at Disneyland Park in California, and on August 29 in Florida. If you plan to visit the Disneyland version any time before June 23 you will need a reservation. The reservation is free, but necessary. Of course theme park admission is required as well. If you're staying at a Disneyland owned hotel, you will automatically receive a reservation, otherwise they are first come, first served. Reservations are not going to be required to visit Galaxy's Edge in Florida, but keep in mind that the new land will reach capacity early each day for the foreseeable future.
The new land on both coasts will open in phases. Millennium Falcon: Smugglers Run will initially be the only ride operational. No opening date for Star Wars: Ride of the Resistance has been given for either park. Personally, I think that this is a brilliant move on Disney's part. It will help them to be able to gauge crowd control and see if changes need to be made before the second ride opens. By the time the second ride does open, a lot of us will have already explored the rest of Batuu (some of us several times). Opening in phases will also keep the excitement building, especially since Rise of the Resistance is supposed to be the best ride ever created.
Both new rides will have a height requirement. Guests will need to be at least 38 inches tall to ride Smugglers Run, and 40 inches to ride Rise of the Resistance. That means that Yoda still will not be tall enough to ride.
Initially, FASTPASS in California and FastPass+ in Florida will not be available. There is no word on whether or not that will change in the future. An extra cost for either type of FastPass has been a topic of a lot of rumor and speculation, but for now it just will not be available.
Speaking of rumors, one from a very reliable source states that there will be no Passholder or DVC previews in California. The rumor also states that this has not yet been decided as far as the Walt Disney World version is concerned.
It has officially been announced that Galaxy's Edge will be open at Walt Disney World for Extra Magic Hours. The wording is a bit confusing, though. According to Disney Parks Blog:
During Extra Magic Hours guests staying at select Walt Disney World Resort hotels can spend extra time at Disney's Hollywood Studios enjoying select attractions.
The words "at select Walt Disney World Resort hotels" has some people wondering whether or not the Value Resorts will be included. That could also mean that the Good Neighbor Hotels that usually are eligible for Extra Magic Hours will be excluded. Or it could mean nothing. At Disneyland Galaxy's Edge will not be open for Magic Morning or Extra Magic Hour.
The Star Wars hotel will not be opening at the same time as the Florida version of Galaxy's Edge. There's a rumor that the date will be announced at the D23 Expo in August, or at least the season will be announced then.
I think that's about it for now. If I find out any new information, I'll be sure to share it.