I often will mention that it is not a bad idea to take a day off from Walt Disney World. Often that means a trip to nearby Universal Orlando Resort. Universal is great, but it's also expensive, especially if you want to do it all in one day. I'd like to offer you an alternative. If you're looking to save money, SeaWorld Orlando could be a great choice.
There is a lot to do at SeaWorld. You can go at your own pace. There are some fun shows, plenty of opportunities to see animals, and much more. There are rides of various intensity levels, including some huge roller coasters. These are some of the best coasters for thrills in the area. (I can't tell you much about them, because I won't ride any of them.) You can also learn about conservation at SeaWorld, and learn about the animals that the park has rescued.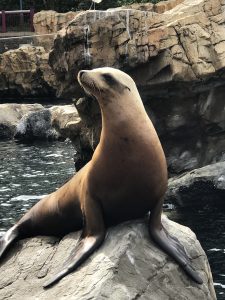 If you're traveling with little ones, Sesame Street is going to soon call SeaWorld Orlando home. The new area is going to open on March 27. I'm sure that I won't be the only adult who will want to walk down Sesame Street and see Big Bird's Nest and Mr. Hooper's Store. Let the "can you tell me how to get to Sesame Street" … "it's over there" jokes begin!
SeaWorld has also become a great concert destination. There are several different concert series every year. If the concerts are held in Bayside Stadium, they'll be full length shows. My daughter and I saw Lifehouse on March 2, and the show lasted almost 90 minutes! Last year my pass more than paid for itself with the number of Praise Wave concerts that I attended.
There are also special celebrations held throughout the year. Seven Seas Food Festival, Electric Ocean, and Craft Beer Festival are three of the special events. SeaWorld Halloween Spooktacular is included with park admission, and the kids will get plenty of candy. SeaWorld Christmas Celebration allows the park to light up for the holidays, and you can meet Rudolph. This is also included with park admission.
One of the best things about SeaWorld Orlando is the price. Buy your ticket online, because they offer deals all the time that you won't find when you arrive at the park. You can add All Day Dining to your ticket and save on food. Remember that the restaurants are not going to be on par with Monsieur Paul's, but you can grab a meal once an hour, every hour that the park is open. There are also often deals where you can include Aquatica Water Park and/or Busch Gardens in Tampa.
I'm not saying that you should leave Walt Disney World, or that you should skip Universal. All I'm saying is that if you're looking for a good deal and want to still hit a theme park, SeaWorld could be a great place to do it.