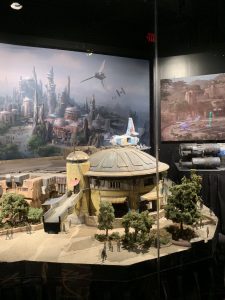 We're reaching a time when we are getting lots of information about Star Wars: Galaxy's Edge. It is exciting! Most of the information released lately is related to the Disneyland version because that one will open first. When something is said about Disneyland, it's usually safe to assume that the same will be true in Florida. There will of course be some minor differences, but for all intents and purposes the two lands will be the same. With so much new information coming at you quickly, how do you know what is really going on? That's why I thought I'd touch briefly on facts, rumors, and speculations. This is how I'm doing things here on Disney Over 50. I can't speak for others sites.
If something is posted here as fact, it usually comes directly from Disney or Lucasfilm. There could have been an official announcement, but that might not be the case. When Walt Disney World quietly changed the Galaxy's Edge page on their official website from "late fall 2019" to "fall 2019", it was done quietly. I shared it with you guys immediately because I spend a bit more time on the website than I care to admit. The source for saying that something is fact is something else that I will consider. If someone involved adds information somewhere and it can be verified, I will most likely consider it fact.
Rumors can be dangerous. There are people who will purposely start rumors, just for fun. There are also plenty of rumors that could be based on fact. I will add rumors fairly often, especially if I think that they make sense and could end up being true. I always try to clearly state that it is a rumor. If I didn't mark something as such, or if I wasn't clear, I apologize. Sometimes I'll post a rumor that I know is not true so that you will not fall for it. I'll let you know that you shouldn't believe it.
Speculation is mostly the kind of thing that I sit around and think about. I do this a little bit too much. Sometimes the speculation will be based on a rumor, but I don't really want to bump it up to that status. Other times, the speculation is totally a guess on my part. Since actually entering the Star Wars universe is something that I've dreamed about doing since 1977, I've got all kinds of theories and ideas.
Remember that there are gray areas. It still has not been officially announced that Galaxy's Edge in California will open in June, but Disney Chairman and CEO Bob Iger accidently let it slip a few weeks ago. Is that rumor or fact? If it's a situation like that, I'll let you know.
I will do my best to keep you up to date on all the latest information. Sometimes I'll write something about it, but other times I'll add a link that I think might be helpful. I know that not everyone is as obsessed with Star Wars as I am, and that's okay. Even if you're not a fan of the saga, you have to admit that what Disney is doing is going to be unlike anything that we've seen before.
As soon as a date is announced, I will let you know. You won't even have to check on Facebook or Instagram. I'll probably scream so loud that you'll hear it in your home.