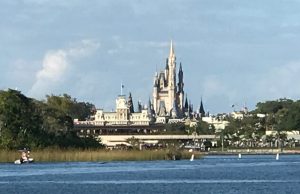 I've written a fair amount here about how you can save money if you stay off property. I've also warned you not to use a company such as Hotwire when you book, and I shared my experience and the terrible customer service that I received. Today I want to touch on something that you might not have thought about, and that's transportation to the parks.
One of the many nice things about Disneyland is that you don't need a car. You can stay in a nice discount hotel close by and easily walk. The two California parks are across from each other; you turn one way and you'll enter Disneyland Park but turn the other and it's Disney California Adventure. Walt Disney World isn't like that. If you plan to hit all four parks, you'll need to use some form of transportation.
A lot of hotels in the tourist district offer a shuttle service to Walt Disney World. This can be great, since you won't have to pay for parking. That said, there are a couple of things that you will want to know before you make your hotel reservation.
Some hotels offer shuttles to the parks, but they are not included in the price of your room. There is an extra charge for the convenience. If this is the case, add up how much it costs for your group or family to use the shuttle. It could be cheaper to drive and pay for Walt Disney World parking.
There are some hotels that offer free shuttle buses, but the bus will stop at several other hotels along the way. That will eat into your theme park time. I've heard of buses that fill up, and then the people at the next couple of stops had to wait until the passengers already riding were dropped off. No one wants to wait, especially if the parks are about to open.
If your hotel does offer a shuttle (free or otherwise), you'll want to know the schedule. Before I lived here we once stayed off property at a hotel with a free shuttle. It ran once in the morning and once at the end of the day. It only dropped off at the Transportation & Ticket Center. While it's easy enough to get a bus or monorail to the other parks from there, it was an extra step that ate up a lot of time. We had to make our way back to the T&TC at the end of the night in time to catch the bus back to the hotel. It was a hassle. One night we almost missed the shuttle, and we had given ourselves plenty of time.
One quick word about Walt Disney World transportation. You do not need to be staying on property in order to use the buses, monorails, or water transportation. There is sometimes some confusion about that because of the way that things are worded on the Walt Disney World website. You do need to be staying on property to use Disney's Magical Express or a Minnie Van.
The easiest way to know what is going on with the hotel's shuttle is to ask. If you call the hotel, call directly. Do not call the corporate reservation number, because you'll end up talking with someone who has no idea what is going on. You want real information, not an answer read off of a computer screen. Emailing the hotel directly could be an even better idea. If you email the hotel, you'll have a record of the answer. A lot goes into planning a trip to Central Florida, and if there is one less detail that you have to try to remember, the better.
One last word about off property hotel shuttles. Download the Uber or Lyft app onto your phone, just in case. You don't want to be standing in a parking lot at midnight, trying to figure out how you are going to get back to your hotel. There should also be taxis around in case you're in a bind. If you feel totally lost and don't know what to do, look for a Cast Member (preferably someone who works in security). He or she will help you to figure things out.