You don't have to wait for the opening of Star Wars: Galaxy's Edge this fall to get your Star Wars fix at Disney's Hollywood Studios. There are already plenty of Star Wars related attractions in the park. There is no word on whether or not these will still be around after Galaxy's Edge opens, so if you want to experience them you should plan a trip to Walt Disney World soon.
If you like live entertainment, you're in luck. Star Wars: A Galaxy Far, Far Away features many of your favorite characters. Jedi Training: Trials of the Temple allows younglings to learn the ways of the Force. March of the First Order is the closest thing that Disney's Hollywood Studios has to a parade. Captain Phasma leads her squad to the Center Stage and back again. You'll feel like you're on a movie set as it takes place.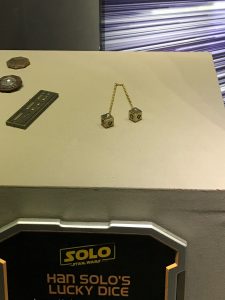 Star Wars: Launch Bay is a must-do for Star Wars fans. It's part museum, with plenty of props and models. Some of the items are replicas, others are on loan from Lucasfilm. There are three meet and greets inside Launch Bay; Kylo Ren, BB-8, and Chewbacca, which is my favorite meet and greet at all of Walt Disney World. (Chewie gives great hugs!) There are a couple of cool picture opportunities in Launch Bay, and there is a gift shop with plenty of unique items.
My favorite ride at Walt Disney World is Star Tours – The Adventures Continue. Try to grab FastPass+ if you can get it, because you will want to ride more than once. The standby line weaves through an Ewok village, and there is a full size AT-AT standing watch. Inside you'll see a few familiar faces. The ride itself will take you deep into a galaxy far, far away. There's an opening segment, a planet, a middle segment, and another planet. The scenarios change, so it's a different combination each time. My guess (total speculation) is that Star Tours is the only current attraction that will still be around once Galaxy's Edge opens, but who knows for how long?
You need to end your day with Star Wars: A Galactic Spectacular. The nightly show features projections, lasers, fireworks, and scenes from all of the movies. It's all set to the music of the legendary John Williams. The end is as close to perfect as possible, especially if it is a clear night. I'm iffy on whether or not this will stick around once Galaxy's Edge opens. I'm hoping that it will. There's a dessert party that you can sign up for if you have a sweet tooth and want to watch in a reserved viewing area.
These are just some of the ways that you can experience Star Wars at Disney's Hollywood Studios before Galaxy's Edge opens. Do them all on your own, or sign up for the Star Wars Guided Tour. If you're interested in the tour, call 407-WDW-PLAY (407-939-7529) for more information.