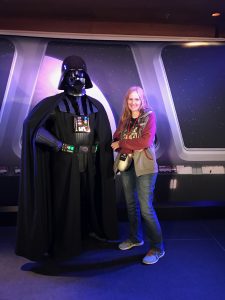 There two rumors surrounding Star Wars: Galaxy's Edge that I've heard lately. They both make a lot of sense, so I thought that I would share them here. If these rumors turn out to be true, the information would be the same for both the Walt Disney World and Disneyland versions of Galaxy's Edge.
The first rumor is that there will not be any character meet and greets in Black Spire Outpost. While this is disappointing, it makes sense. The new lands are supposed to make you feel as if you've really traveled to a galaxy far, far away. Darth Vader doesn't pose for pictures in A New Hope, he's too busy choking people and torturing his daughter. To truly feel as if you've entered the Star Wars universe, there can't be character pictures. That said, every Cast Member in the land will be playing a role of some type, so there will be plenty of chances for you to get a cool picture with someone.
The second rumor has to do with costumes. Galaxy's Edge is not going to be a cosplayer's paradise. The costume guidelines set for the rest of Walt Disney World will continue to hold true. That said, the rumor also states that there will be places where you can buy things so that you will better be able to fit in. I don't know if that means just small items like the ears and tails that are sold in Pandora over at Disney's Animal Kingdom, or if it will be much larger. Wouldn't it be fantastic to be able to shop for a capes where Lando shops? How about picking up some Jedi robes? I'm just dreaming here. You know that there will be lightsabers for sale, which will help you to accessorize.
I have a feeling that we'll be getting plenty of new information regarding Star Wars: Galaxy's Edge in the next few weeks. With the Disneyland version allegedly opening in June (the dates that I keep hearing are June 22, 23, or 24) we should be learning some great things soon!