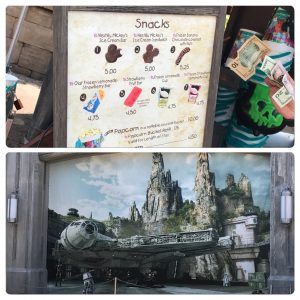 From time to time, Walt Disney World will offer the Disney Dining Plan for free. This lately has been in the fall, not during the busier summer months. For the past few years the announcement of Free Dining has been made in the spring. In a move that some are calling surprising, Free Dining has already been announced for 2019, and it is not when people were expecting. Free Dining is offered for July 5 through September 30. July is the busiest month of the year, which is why some people are so surprised.
My mind automatically jumped to Star Wars: Galaxy's Edge. The words "through September 30" keep popping up on special offers. Not only is this when Free Dining will end, it is also the end of the 4-Park Magic Ticket deal (which cannot be combined with Free Dining, by the way). September 30 is also the last day of The Incredibles meet and greet at Pixar Place; at Disney's Hollywood Studios.
Does that mean that Disney is now shooting for an October Galaxy's Edge opening? I sure hope so! They've already changed the opening on the website from "late fall" to "fall", and October is smack dab in the middle of fall.
I was lucky enough to be a part of three special media sneak peeks with Toy Story Land. We couldn't see much, but we could see some of the progress. These events were held monthly. The last one was a little over a month before Toy Story Land opened, and they seemed to be crunched for time. There were no Passholder Previews for Toy Story Land like when Pandora opened, there wasn't enough time to do them right. I'm thinking (it may be wishful thinking) that Disney is going to make sure that doesn't happen with Galaxy's Edge. Maybe October will be the month of Passholder previews.
Another thing that is interesting about the dates for Free Dining is that most of July is included. My speculation is that Disney is trying to draw people in who were going to skip a summer vacation and wait for Galaxy's Edge. Free food is a great way to entice people.
All of this is of course speculation on my part. Only a handful of people know what date they are shooting for as far as Galaxy's Edge is concerned, and these people won't tell their spouse or even their grandmother. It's a secret guarded as tightly as when Luke Skywalker found out that Darth Vader was his father. That was quite the surprise, and I know that Star Wars: Galaxy's Edge will be full of surprises as well. When we do know the date, I'll let you know immediately. After I finish screaming for joy…