Yesterday afternoon I stopped by Toy Story Land for a little while because I wanted to get some pictures of the Galaxy's Edge progress. (If you want to see them, I added them on both Facebook and Instagram.) It was the most crowded that I've seen it since Andy decided to open his backyard to the public! Toy Story Mania!, which has had reasonable Wait Times lately, had a two hour wait! Slinky Dog Dash was posted at 135. I didn't check Alien Swirling Saucers, but I could see that the line was long. The rest of the park was busy, but not like this. I have a two part theory on why the new land had such long lines.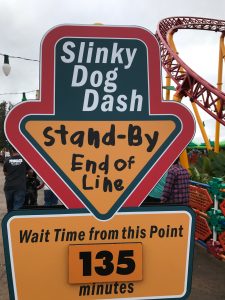 The first part of my theory is obvious. It's Christmastime, so crowd levels are up. People of course want to see the new land and hit the rides. Slinky Dog Dash is awesome, and if I hadn't ridden before I'd wait for 135 minutes. (Alien Swirling Saucers is fun as well, but Slinky has become one of my favorites at Walt Disney World.) If this is a family's only chance to ride, of course they're going to do it.
The second part of my theory is weather related. When Toy Story Land opened, it was hot! Toy Story Land has little shade, and even less air conditioning. That made some people think twice before getting in line, even if it was their only chance to ride. Yesterday, it was a comfortable, cloudy day. There was no sun beating down on the heads of those in line, and there wasn't humidity that you could feel with each breath. That made the idea of a long wait a little more tolerable.
If you're in Toy Story Land and it is nuts, take the time to notice the details. That's half of the fun of the new land. Whether it's the giant footprints throughout the land, the bendy straw poles near Woody's Lunch Box, or the Christmas enhancements, Toy Story Land is a lot of fun. While you're there, make sure you also look over the fence at the edge of the land. That's where you can get a glimpse at the Galaxy's Edge progress…