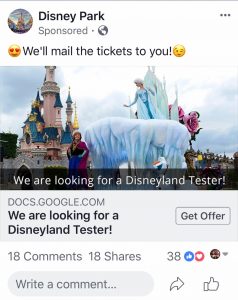 A few days ago there was an ad in my personal Facebook newsfeed. It claimed that I could receive free tickets to Disneyland. Who doesn't want free tickets to Disneyland? My niece and her husband live in LA, and they would let me stay with them. Airfare is affordable right now. I could head to California for a couple of days on the cheap! Of course my plans didn't make it any further than just dreaming, because I knew that the ad was fake.
I've added a screenshot of the ad above. There is one obvious way to tell that it isn't real. It's from the page "Disney Park". If something is authentic, it's "Disney Parks". That one letter makes all the difference.
I didn't click the link, but I'm assuming that this was to get people's email addresses. There are no free Disneyland tickets from Disney Parks. If Disney wants mystery shoppers, there are plenty of reputable companies out there that they will use. They're not going to grab people from Facebook.
There are plenty of scams out there as far as contests are concerned as well. Before you fill out the form and submit your information, check the Facebook page that claims to be giving away a trip. See how many Likes the page has. Look for missing or double letters in the name (such as Jofrey's instead of Joffrey's). Don't click the link, but go to the company's website using your favorite search engine. There are some legit contests out there. I'll use Joffrey's as an example again. They will hold contests where the prize is a trip to Walt Disney World. If you see a Facebook page talking about such a contest, head to the official Joffrey's website. If they are holding a contest, the information will be there.
Fake companies will also use generic pictures on their Facebook pages. I've seen "contests" for Walt Disney World where the picture was Sleeping Beauty Castle. I've also seen pictures of attractions that are not still open. Sometimes it will be clip art instead of actual photos. If it's a real contest associated with Disney, there will be real, current pictures.
Remember that if something sounds too good to be true, it probably is. The chances of a random Facebook page giving away authentic tickets are extremely slim. Be careful with your personal information, always. If you are going to try to enter a contest, create a new email address and use it just for contests. That way, you won't end up with a ton of Spam in your main inbox.