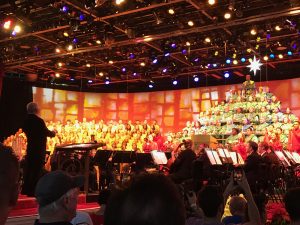 I told you a few days ago that Disney Parks Blog plans to livestream tonight's 8:15 Candlelight Processional from Epcot. I said that I would add the link to the Disney Over 50 Facebook page. I did not know at the time that I would be attending Disney After Hours at Disney's Animal Kingdom tonight. I'll still try to add it to Facebook if I have a chance, but just in case, you can find the link for it here.
The narrator for the Candlelight Processional tonight is Neil Patrick Harris. He's one of the favorites, and I'm sure that it is going to be packed. The livestream will start sometime around 8:05, and the actual performance will be at 8:15.
If you miss it, don't worry. It will still be online after the performance is over. I think that they said it will be available for 30 days, but don't quote me on that. If you have never experienced the Candlelight Processional, I highly recommend it, no matter what your faith is. The show is fantastic.