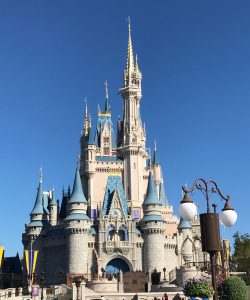 If you've never been to Walt Disney World, or if you're traveling with someone who is a newbie, the automatic reaction is to head to the Magic Kingdom on your first day. After all, it's the most popular theme park on the planet, and it's the place where dreams come true. Who wouldn't want to make it their first stop? I think that you should wait, and here's why.
The Magic Kingdom is the most recognizable of the four theme parks. Not everyone immediately knows what the Tree of Life is, for example, but Cinderella Castle is known by people with little Disney knowledge. Many people also have a basic knowledge of what can be found in the Magic Kingdom; they know of "it's a small world", Haunted Mansion, and Space Mountain. They don't know what to expect at Epcot or the two other parks. If you hit the Magic Kingdom first, your expectations for the rest of your trip are going to be extremely high.
Another reason why you might want to hold off on the Magic Kingdom is because there are more rides there than in the other parks. You don't want to feel a letdown, as if there isn't much to do elsewhere. If you visit the other parks first, you'll be able to explore them without comparing them to the number of rides at the Magic Kingdom.
If your first theme park day is going to be a Monday, you might want to start with another park. Many people will arrive in Florida on Sunday, and will hit the parks for the first time on Monday. The Magic Kingdom is the park that most people want to see first, so the crowds tend to be slightly heavier on Mondays.
If you're doing a-park-a-day my suggestion is that you should hit the park that you care the least about on the first day of your vacation. Do everything, and totally enjoy it. Do the same with the other two parks. Save the Magic Kingdom for your last day. Stay from rope drop until the Kiss Goodnight. You'll be able to end your theme park time with a bang, literally.