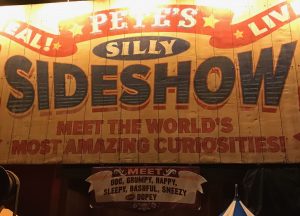 Sometimes there will be a special event at Walt Disney World that requires an extra ticket. The two separate ticketed events that we can always count on are Mickey's Not-So-Scary Halloween Party and Mickey's Very Merry Christmas Party. Star Wars: Galactic Nights is another ticketed event that I've attended, but that is not currently on the Walt Disney World website so I don't know if it will return. (I hope it does!) These events limit the number of people who will be in the park, and there is always extra fun. Part of the draw is that there will be special characters in the parks. Some are characters who don't normally appear, while others are classics dressed in different outfits. These extra characters are part of the draw, which is why I have yet to get in line.
I love characters. I have countless pictures with characters, and it will never be enough. The problem with the characters at the special events is that they are the reason why some people attend the event. I've heard of people who have waited in line for four hours to get a picture with all seven dwarfs. Believe me, that's a picture that I would love to have, but I don't want to spend four hours of a five hour event waiting in a line.
When my daughter and I attended our second Mickey's Not-So-Scary Halloween Party last weekend, we decided to keep an eye on the character lines and maybe get in one of them. They were all quite long, and there was too much else that we wanted to do. I didn't like the thought of missing the parade or the fireworks to just stand in a long line.
I have a lot of pictures with Star Wars characters from back when Star Wars Weekends were around. This was different, because the weekends took place for several weeks in a row. We went plenty of times each year, and we would pick one day to concentrate on characters. We knew that we would still be able to experience everything else, because we would be back. It was nice that it wasn't a special ticketed event, Star Wars Weekends were included with park admission. I loved Star Wars Weekends, and it was a sad day in my household when we heard that they wouldn't be returning.
Maybe someday I'll get in line for some character pictures at a separate ticketed event. I've been lucky enough to attend the Halloween Party twice this year; if we end up going a third time we might try a character line or two. Maybe we'll time things right when the Christmas Party rolls around and get some character pictures then. Or maybe we'll just enjoy everything else that the party has to offer, and take pictures of the characters when they pass us in the parade.