It's still August, and the 2018 Epcot International Food & Wine Festival is already going strong. The annual event began on August 30, and will run daily until November 12. I was there on opening day, and I'll be stopping by several more times in the next two and a half months to keep you informed. The Epcot International Food & Wine Festival is included with park admission, although some things cost extra.
One of my favorite parts of the Food & Wine Festival is the Eat to the Beat Concert Series. There are three shows held each night. I'm really looking forward to both Tauren Wells and MercyMe, who probably would have been performing at Night of Joy if it hadn't been canceled. There are some other great acts this year, you can see the full list here. Keep in mind that sometimes (although rarely) artists will change, and shows can be delayed or canceled in the case of bad weather.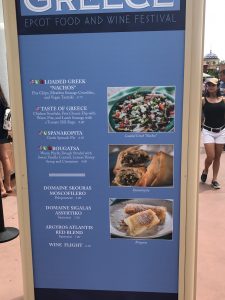 The Global Marketplaces look like they will be quite popular this year. These are booths that are set up along World Showcase (and in a few other places) where you can order snack sized portions of dishes from various countries and regions that are not usually sold at Epcot. There are new Global Marketplaces this year, such as Shimmering Sips Mimosa Bar, and plenty of returning favorites. I'm thrilled because my all time favorite Food & Wine Festival dish, Loaded Greek "Nachos", are back in Greece. I'll probably add pictures of them several times over the next few weeks to both the Disney Over 50 Facebook and Instagram accounts.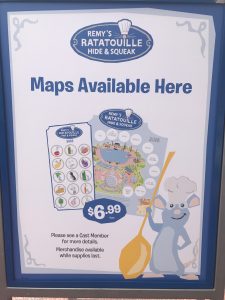 While it seems like the Epcot International Food & Wine Festival is only for adults, there is also fun for the kids. There's a scavenger hunt known as Remy's Ratatouille Hide 'n' Squeak. Buy a map, look for Remy, and then turn your map in for a special pin. There's also a play area for the kids, and on Friday and Saturday nights a dance party with characters. Kids can also learn to roll Candy Sushi, and they'll love Junior Chef Kitchen. The latter is held on Sundays, and seating is limited, so sign up early in the Festival Center.
There are also seminars, tastings, and plenty of other happenings during the Epcot International Food & Wine Festival. The best way to make sure that you don't miss out is to pick up a park map and an Epcot International Food & Wine Festival Passport. These will let you know exactly what is going on. If you have a question, head to the information desk at the Festival Center. You'll find many other things to check out inside the center as well.