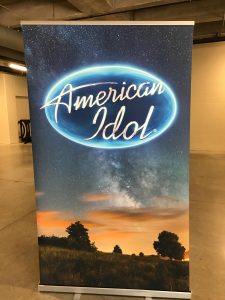 Auditions for the next American Idol are currently underway, and on August 25 the bus pulled into the ESPN Wide World of Sports Complex at Walt Disney World. Even though I'm slightly over the age to audition, I decided to check it out to see what was going on.
The location was a smart one. Last year the auditions were held at Disney Springs, and it was a bit of a madhouse. There is plenty of room at the ESPN Wide World of Sports Complex, and everything seemed to be running smoothly when I arrived at around noon.
Registration began at 7:00am, with the actual auditions kicking off at 9:00. I talked to a Security Cast Member who told me that things calmed down around 10:00, and that it had been pretty quiet since.
I tried to get as close as possible. I was allowed into the room where people were filling out their information, but they wouldn't let me into the area where they would then wait or where the auditions were actually taking place. There was no line to register when I was there.
This was the kickoff for the bus auditions. Maddie Poppe, Caleb Lee Hutchinson and Catie Turner were all scheduled to make appearances. The celebrity judges are not on hand for the bus auditions.
American Idol moved to ABC last season, after enjoying a long run on Fox. Contestants need to be between the ages of 15 and 28. If you want to give it a shot but can't make it to any of the auditions, you can submit an audition online here.
I want to give a shout out to the Cast Members at ESPN Wide World of Sports Complex. Those that I talked to were all extremely friendly and helpful. This could have been a stressful day for them, but there were lots of smiles and friendly waves.