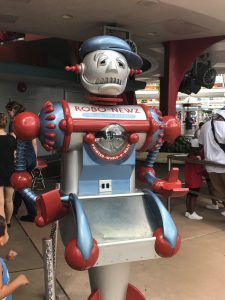 Yesterday I was at Tomorrowland in the Magic Kingdom and I noticed a family that was confused. They wanted to ride Astro Orbiter, but they were clueless about the line. This is something that I notice almost every time when I'm in the park. The problem is that the Astro Orbiter line and the PeopleMover line are right next to each other, and they often look like they are the same line. They aren't.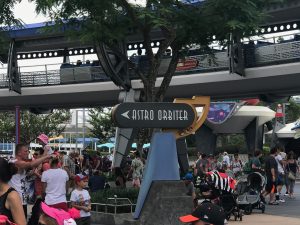 It doesn't have to be that baffling. If you're facing the line, the line for Tomorrowland Transit Authority PeopleMover will be on your left, while the line for Astro Orbiter will be on the right. It's as simple as that. There's a Robo News robot in the middle that separates the two lines.
The line and the Wait Time for Astro Orbiter will usually be quite a bit longer than the line for Tomorrowland Transit Authority PeopleMover. FastPass+ is not available for either ride. In my opinion, the PeopleMover is a hidden gem at the Magic Kingdom. There's usually a short line, and it moves quickly. The ten minute ride is a great opportunity to sit down for a while, and it offers fantastic views of the Magic Kingdom. It's also fun for the entire family.