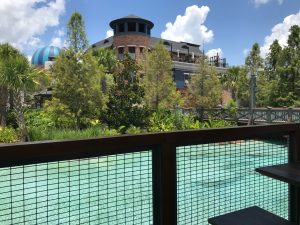 There are a variety of reasons why people eliminate gluten from their diets. If you're one of them, or if someone in your party doesn't consume gluten, you'll still be able to enjoy lots of delicious food at Walt Disney World.
At counter service restaurants, tell the host or hostess when you enter. You'll either be given an allergy friendly menu or told what items can be made gluten free. Most places that serve burgers offer gluten free buns, and pizza can sometimes be made with gluten free crust. Be warned that it might take a little bit longer.
"Wheat/Gluten" is one of the choices under Special Requests when you make a dining reservation. Make sure that your server knows before you order. You'll find plenty of options.
Some restaurants, such as Splitsville at Disney Springs, have gluten free options noted on the menu. If you're visiting during one of the festivals at Epcot, gluten free items will be marked with a "G" at the food kiosks.
Some of the iconic Walt Disney World snacks are gluten free. You'll be able to safely eat Dole Whip, Mickey Premium Ice Cream Bars, and popcorn-stand Popcorn. There are plenty of other snacks that you'll be able to enjoy as well.
If you're at Disney Springs, stop by Blaze Fast-Fire'd Pizza. They have gluten free dough, and you can add all the toppings that you want. When you've finished your pizza, stroll over to Erin McKenna's Bakery NYC. The cupcakes, cookies, donuts, and everything else there is safe for you and delicious. Sprinkles also offers a gluten free Red Velvet cupcake.
Like any other restricted diet, you'll find yourself asking a lot of questions. If you don't like the answers, ask to speak to a chef or see the ingredients binder. That will put your fears to rest.