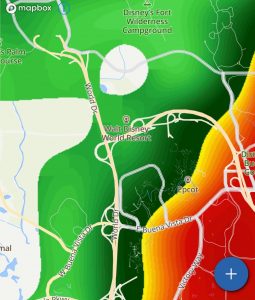 As I write this, thunder is rumbling in the background. That's nothing unusual for Florida in the middle of the summer, storms are usually a daily occurrence. The breeze will pick up, we'll see lightning in the distance, and we know that we need to get indoors. An hour later the storm is gone, leaving behind only humidity to remind us that it was there.
This summer has been different. These storms don't seem to want to leave! We'll get a break of maybe an hour or two, and then the storms will start up again. This hasn't been happening every day, but this is my ninth summer in Florida and this is the worst that I can remember. There are people who have lived here twice as long who say that this is the worst that they have seen it.
What does this mean if you're headed to Walt Disney World in the next few weeks? First and most importantly, you need to be mentally prepared for it. If you have it in your mind that you're going to experience A LOT of rain, you won't be blindsided.
You'll also be glad if you've studied the park maps ahead of time so you'll know where to head once the rain starts. When packing your park bag, make sure you have ponchos and dry socks. I carry water shoes with me and will put those on if it starts to rain so that I won't end up walking around in wet shoes. If you don't want to carry the extras with you all day, there are lockers that you can rent in the parks.
If you're here and the forecast calls for rain (which it does daily at this time of year), arrive early. You most likely will still have a couple of solid hours of theme park time before the storms threaten. If a storm is coming, listen to the Cast Members. They'll keep you safe, and they'll keep the outdoor rides open as long as safely possible. Download a weather app to your phone so that you can watch the radar and see if a storm is moving in. If a ride that you had FastPass+ for closes because of weather, check your email. You'll be sent instructions on what you can do instead.
I'm not a meteorologist, so I have no idea "weather" or not this rainy pattern will continue. All I know is that it isn't stopping me from enjoying Walt Disney World. It shouldn't stop you either. Throw on a poncho, put on your flip flops, and jump in a puddle. That sounds like a lot more fun than complaining about the weather. And when the rain has stopped, look up. This has also been a summer of rainbows.