Now that Toy Story Land is open, people are talking more than ever about the next big thing that is coming to Walt Disney World. The next new land will be Star Wars: Galaxy's Edge. It will take guests to the planet of Batuu, which Disney created for the theme parks. The name of the town is Black Spire Outpost. The new land is supposed to be a haven for smugglers and those who don't really want to be found.
There will be two new rides in Star Wars: Galaxy's Edge. One will take you into a battle between the First Order and the Resistance. The other will allow you to pilot the Millennium Falcon. (What Star Wars fan hasn't dreamed for decades of doing that?) There will be a cantina-style restaurant, with Rex (the original Star Tours pilot) as the DJ. There is also going to be shopping, it sounds like it will be an open market of some type. There will be characters, and plenty of surprises. Guests are supposed to truly feel as if they've stepped into a galaxy far, far away.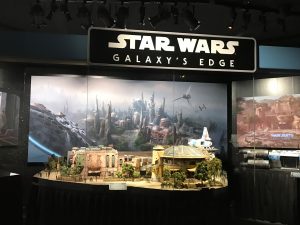 A small part of the model that has been created for Star Wars: Galaxy's Edge can be seen inside Walt Disney Presents in Disney's Hollywood Studios. The entire model was on display at last years' D23 Expo in Anaheim, CA. I was there, this thing is huge! Please enjoy the pictures below of that model as you dream about the future. It is going to be unlike anything we've seen elsewhere.