If you're planning a Walt Disney World vacation with more than one family, you can all still have your own My Disney Experience accounts. If you're worried about not getting the same FastPass+ times, that isn't a problem. It's not difficult to link accounts. Finding the spot to do it takes half the time.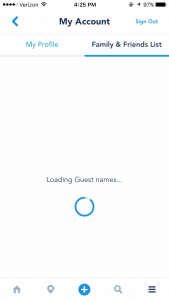 The first thing that you need to do is to go to My Disney Experience on the Walt Disney World website, or you can do it on the My Disney Experience App. Once you sign in you'll need access to your Family & Friends List. If you're on the website, you can find the list as one of the choices under My Disney Experience. On the app it's a little trickier to find. Hit the menu in the bottom right corner, then look for My Profile. It's partway down the page. Touch that, and a new screen opens. There's a choice there for Family & Friends List, access that.
The next part is the same on both the website and the app. You'll want to go to Add a Guest at the bottom. If you're linking with someone through their email address, pick "I'll enter their name and age". You don't have to have the exact age if they're an adult because the choice is 18+. Then you'll be given an option of managing the guest, or providing an email address. Since you're linking, give the email address of the other person's My Disney Experience Account. The request will be sent, and if they accept it you'll be linked!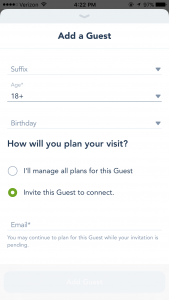 There are also options to add through Connected Guests or through a Walt Disney World hotel reservation number. If the person who you want to link with is on the Connected Guests list, go ahead and use that option. Those are people who are linked with the people who you are also linked with. If you have the hotel reservation number and want to do it that way, that is also a good choice.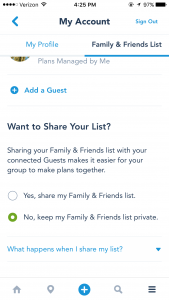 Once the accounts are linked, you'll have the ability to make FastPass+ reservations for those who are on your list. It also comes in handy when it's time to see those PhotoPass pictures! If you're at a park and want to link accounts or add a guest but are having a hard time, just stop by Guest Relations and they'll help you out.
If you decide that you want to unlink someone from your Family & Friends List, that's simple as well. Just go back on the list, open the icon for the person who you want to remove, and choose the "Remove from My List" option. Easy peasy.