Slinky Dog Dash is one of two new rides in Toy Story Land, which is located in Disney's Hollywood Studios. The other new ride is Alien Swirling Saucers. The entrance for Toy Story Mania! has been moved inside Toy Story Land as well.
The premise of Slinky Dog Dash is that Andy from the Toy Story movies built a roller coaster in the backyard using his Dash & Dodge Mega Coaster Kit that he got at Pizza Planet. The ride vehicle is Slinky Dog.
I personally think that Slinky Dog Dash is the most adorable ride that I have ever seen. Slinky Dog has a bit of a smile on his face, and his tail wags as the car goes along the track. It's a fun ride to stop and watch for a while.
The lines for Slinky Dog Dash are pretty long, but the waits have not been as long as I thought that they would be. The line waits outside, but there are some umbrellas and fans along the way to give the illusion that you can have a break from the heat. Once you get closer you'll wait in a covered area, which will get you out of the sun.
The queue itself is incredible. There are Green Army Men scattered throughout, plus nods to many other classic toys. There are also pieces from Andy's Dash & Dodge Mega Coaster Kit in a few places. Pay attention to the details, because you are sure to have flashes of memories from your own childhood or from when your kids were little.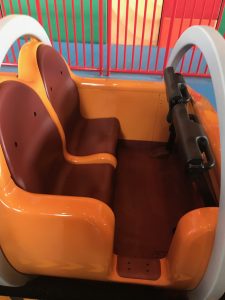 The ride itself is considered a family roller coaster. All guests must be at least 38 inches tall in order to ride. There are a couple of hills but the drops aren't huge. A lot of people have described Slinky Dog Dash as a cross between Seven Dwarfs Mine Train and Big Thunder Mountain Railroad. That's a fairly good description. It's not as smooth as Seven Dwarfs Mine Train, and not as bumpy as Big Thunder Mountain Railroad. The seats are much more comfortable than Seven Dwarfs Mine Train. I'm not a fan of big coasters, but I loved this.
If you're a Star Wars fan like I am and you can't wait for the opening of Star Wars: Galaxy's Edge, there is a fantastic spot to see the construction while on Slinky Dog Dash. The view is slightly better on the right side, but I was on the left and still could see well. It will get you excited about late fall, 2019.
In my opinion, Slinky Dog Dash is a nice addition to Disney's Hollywood Studios, and a really fun ride. It lasts about two minutes long, but it feels like it's a lot shorter. If you'd like to feel as if you're there, watch the instruction video below. After the video is over, please consider subscribing to our YouTube Channel.