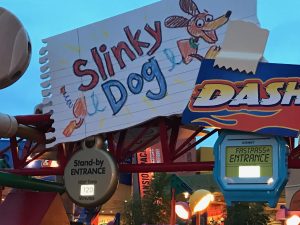 One word that I have heard a lot lately when it comes to planning a Walt Disney World vacation is strategy. People want to be able to position themselves in the best way possible so that they won't miss anything. But you know what? You're going to miss something. I've been an Annual Passholder for years and I live close enough that I can tell what time it is because of the fireworks, and there is still plenty that I haven't done. And in a way, that's part of the magic. Leaving something on the table for next time keeps the excitement going.
When Pandora – The World of Avatar opened in 2017, there was a lot of talk about the best strategy in order to be able to hit both new rides. It can be difficult to get FastPass+ for Flight of Passage, even if you're staying on property and can make your reservations 60 days in advance. The way I see it, you have four choices. I'm using Flight of Passage as an example, but with Toy Story Land now open it also works for Slinky Dog Dash. Seven Dwarfs Mine Train and Frozen Ever After should be included as well.
Choice One:
Arrive at Disney's Animal Kingdom way before the park opens. An hour and a half to two hours ahead of time isn't a bad idea. Get in line, and when the park finally opens hightail it to Flight of Passage. You'll wait yet again, but if you arrived early enough it shouldn't be too long. Once you're off, hit the rest of the park.
Choice Two:
Arrive when you feel like it, and see what the Wait Time for Flight of Passage is. Use the restroom, then get in line. Enjoy the queue as you move forward, and look for small details and Hidden Mickeys.
Choice Three:
Arrive when you feel like it, and see what the Wait Time for Flight of Passage is. As you walk away, remind yourself that you'll be able to ride Expedition Everest, get ice cream at Anandapur Ice Cream Truck, and watch both Festival of the Lion King and Finding Nemo – The Musical in the amount of time that it would take to make a dent in the line. Mumble "no ride is worth that wait" as you leave, and don't look back.
Choice Four:
Enjoy your day, but get in line for Flight of Passage a few minutes before the park closes. In most cases, they'll keep the line open until the official closing time. Who needs sleep anyway?
My question to you is this, is one ride worth eating up a large chunk of your day? There's nothing wrong with answering yes to that question, just know ahead of time that that's what you're doing. I've heard people brag that they "only waited 30 minutes" for Flight of Passage, but that was because they arrived at the park two hours before it opened. Isn't that really waiting two hours and 30 minutes? There is nothing wrong with doing it that way, especially since they then had a full day to hit all of the other attractions. But it wasn't "just a 30 minute wait".
There's also nothing wrong with having no set strategy. If you're a play it by ear type of person, just go and have fun! Too many people over plan and over strategize, and that ends up sapping some of the fun out of their vacations. In my opinion, the best strategy to have is to admit that you will miss something, and decide to have a magical time anyway.