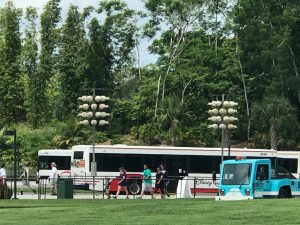 Disney's Magical Express is a fantastic service that saves many people the expense and hassle of having to rent a car for their Walt Disney World vacations. You can use the service for free if you are staying at a Walt Disney World owned resort (restrictions may apply). They will pick you up at Orlando International Airport, and then get you back in plenty of time for your flight. The drawback is that you're then limited on how you can get to places. There's transportation to the theme parks and Disney Springs, but what if you want to go somewhere else? You can still maneuver around Walt Disney World, but it will take a little bit of time and planning.
The most important thing first; if you have a dinner reservation or need to be somewhere at a specific time, give yourself at least an hour to get there if you're using Walt Disney World transportation. If you're traveling first thing in the morning or around the time when the parks will close you might want to give yourself a little more time than that. It's better to be early than to lose your reservation and your deposit.
For the most part, when traveling across Disney property you'll need to decide where you're going to switch transportation. Disney transportation will take you to the theme parks, and Disney transportation will take you to Disney Springs. Pick whatever is closest to your resort, or which is most convenient to where you're headed. For instance, let's say you're staying at Disney's Animal Kingdom Lodge, but you have a reservation at Maya Grill at Disney's Coronado Springs Resort. It's as simple as taking a bus to either Disney's Animal Kingdom or Disney Springs, and then changing buses for Disney's Coronado Springs once you get there.
Remember that Disney Springs is not always the best place to change transportation. If your reservation is for California Grill at Disney's Contemporary Resort, take the bus to the Magic Kingdom. From there you can take the monorail or even walk to the Contemporary.
If you need help figuring out the easiest way to get from your resort to another place on Walt Disney World property, ask at the front desk of your hotel. The Cast Members will be able to help you to find the best way to do it.
When you're in a hurry, you can always take a Minnie Van instead. The cost is $25 per trip for up to six people, but you'll get there a lot faster. Uber, Lyft, or a taxi are options as well, but remember with Minnie Vans that you'll have a Disney Cast Member as the driver, and that the vehicle will be in great condition. Minnie Vans don't leave Disney property, so if that's in your plans you'll need to use a different service.
It's not uncommon for someone who used Disney's Magical Express to decide that they want a car. It could be for the day, or maybe they want it for the rest of their vacation. You can rent through either Alamo or National on Disney property. There's a shuttle to and from the resorts to the Car Care Center. If renting a car is something that you want to do, ask at your resort's front desk or at concierge. They'll arrange it for you.