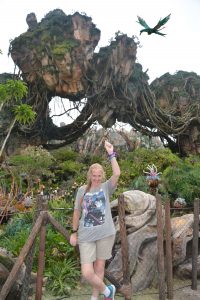 In the past I've talked about Memory Maker and how it's a convenient way to get all of the pictures that you'll want while at Walt Disney World. One thing that is included with Memory Maker is Magic Shots. What exactly are Magic Shots? Are they truly magical?
A Magic Shot is not a drinking game, and it does not mean that the Orlando Magic won a game at the buzzer (or won a game at all). A Magic Shot is a special photograph where a little extra magic is added after the picture is taken. It could be a character, an additional background to the scene, or some other amusing extra. Magic Shots are special and fun to add to social media.
If you are interested in Magic Shots, just look for a PhotoPass photographer. He or she should be able to tell you where the nearest places are. The locations for Magic Shots do move from time to time, which is why I am not going to list them here. (They should be called Spots for Magic Shots, that has a nice ring to it.) If you see people taking pictures and looking at something that is not there, that's probably a Magic Shot spot. The same is true if you see people pointing at nothing. Chances are, they're taking a Magic Shot.
Your Magic Shots will show up in your My Disney Experience App soon after they have been taken. You can also download them on your My Disney Experience account online. If your pictures aren't there immediately, don't worry it. Sometimes it takes a little while for the photos to be added. In the rare instance that the magical part of your Magic Shot doesn't appear, just laugh. The pictures are pretty funny without the animated extra.