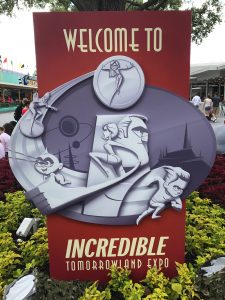 Summer is here, and at Walt Disney World it is already incredible. That is why they are celebrating the Incredible Summer at all four theme parks. At the Magic Kingdom, the summer is incredible in more than one way, because they are celebrating the June 15 release of Incredibles 2, and they have taken over Tomorrowland. The fun at the Magic Kingdom continues daily until September 3. Here are a few of the highlights.
Characters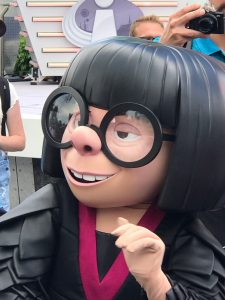 It's always nice to find extra characters for special events in the parks, and for Incredible Summer there are four fun opportunities. You'll find Mr. Incredible, Mrs. Incredible, Frozone, and for the first time ever Edna Mode. The characters roam Tomorrowland, they don't have set meet and greet locations.
Picture Opportunities
If you'd like to look like you're saving the world, you have the chance. There are areas throughout Tomorrowland where you can step into a movie scene for a picture. PhotoPass Photographers are on hand to capture the moment.
Super Super Fans
You might notice some people walking around in costumes that aren't quite as super as the others. These are the Super Super Fans. Make sure you get a picture with them as well, and ask them about their costumes.
Food and Merchandise
A super party needs super foods. You'll find offerings such as Super Foods Salad and Mrs. Incredible Pretzel Mask. You can see what is available and where in your Times Guide. That also has the locations of where you can purchase Incredible Summer merchandise.
Super Party Time
Dance parties are always a lot of fun. For Super Party Time dance party there's a DJ, characters, and other entertainment. It takes place each day from 2:00 until 7:00, weather permitting.