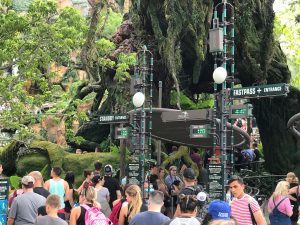 Here at Disney Over 50 I like to share tidbits and information that I think you'll find helpful. The name may imply that it's for people over a certain age, but I hope that all ages will enjoy this site. While most posts are informative, today I'd like to go a different route. I'd like to tell you a story that put a smile on my face, and reminded me of why I love Walt Disney World and the Disney community so much.
Yesterday I was at Disney's Animal Kingdom, in the FastPass+ line for Avatar Flight of Passage. Honestly, I was a bit annoyed because of an extremely rude Cast Member (which is rare) and part of me was tempted to just leave. A Flight of Passage FastPass+ is not something that I really wanted to give up, though, so I stayed in line.
When we got to the first of the two pre-show rooms there was a family of four in it who were all wearing "1st Visit" buttons. They knew nothing about the ride, the mom thought that the room we were in was the actual ride. I explained quickly that there are two different pre-shows, and then we'd be on the ride. I didn't think of it again at the time.
A few minutes later everyone was getting on their ride vehicles. One of their two sons, who was probably about seven, was riding next to me. The mother asked me another question, and then it dawned on the boy that I had ridden it before. He was obviously nervous but trying not to show it. He asked me several questions and seemed to like my answers. I also promised him several times that he would love the ride.
Once the screen opened in front of us and we were in the middle of the Valley of Mo'ara the boy let out a very enthusiastic "whoa!" I could tell immediately that he was blown away by the ride. He wasn't loud or obnoxious like some people when they ride and forget that there are others around. He was just having the time of his life.
When the ride was over, he turned to me before his parents. He was grinning from ear to ear. I asked him what he thought, and he told me that I was right, that he had loved it. His mom thanked me for helping them out. We then went off in two different directions.
That moment reminded me that there is Disney magic everywhere at Walt Disney World, and that we can all help to create it. That family thought that I was helping them, but they helped me just as much. Since we moved to Florida and became Annual Passholders we have met people from across the country and even from the other side of the planet who have put a smile on my face, even if only for a few moments. There is so much tragedy in the world right now, it's nice when strangers come together and make each other's days. I want to be that kind of person more often, and I hope that you decide to do the same.