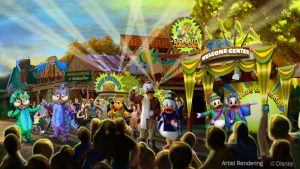 Part of the fun of a special anniversary at Walt Disney World is that the celebration tends to last. April 22, 2018 was the 20th Anniversary of Disney's Animal Kingdom, but the party is going to continue for a while. One fun extra combines the park's anniversary and summer. It's sure to be fun for all ages.
Donald's Dino-Bash! will begin on May 25, the ending date has not yet been announced. The party will begin at 4:00pm, and it will take place in DinoLand U.S.A. One of the fun aspects is that there will be a lot of characters in the land. Not only will Donald be there, you'll also find Daisy, Goofy, and Pluto. Chip 'n' Dale will be around, but you might need to look for them. They could be hiding, and they might be dressed like dinosaurs. There will also be appearances by Scrooge McDuck and Launchpad McQuack, who are both normally hard to find at Walt Disney World.
Of course since it is going to be a bash, that means that there will be a dance party. Donald and his friends will encourage everyone to shake their tail feathers to the music. Dance parties are great because anyone who still has energy can burn it off, while those who are worn out can sit down on the side and watch.
Donald's Dino-Bash! will be a lot of fun for all ages. If you're going to be at Walt Disney World while it's taking place, make sure you stop by. This could be a one summer only type of event.