On April 22, 1998, Disney's Animal Kingdom opened. Twenty years later, there have been many changes, but the park remains focused on conservation. It is also the home of some of the most incredible rides that you'll find at Walt Disney World, and there is world class entertainment.
Just because the actual anniversary has ended does not mean that the party is over. Party for the Planet is a celebration that will continue daily until May 5. If you're planning to attend, here are some of the highlights:
There are extra photo opportunities throughout the park. Guests can hold up or step inside special frames for a conservation themed picture.
Tiffins Talks is a unique dining opportunity that will be held on select nights through May 4. You'll dine on a special menu, and there will be a presentation by a Disney conservation expert. The cost is $165 per person, and reservations are strongly recommended.
At Rafiki's Planet Watch, you can head out on a special behind the scenes tour. You'll see backstage areas that aren't normally open to the public. Pictures and videos are not allowed.
Wilderness Explorers can earn a special badge for their booklet. These badges are limited edition, after May 5 they will be gone.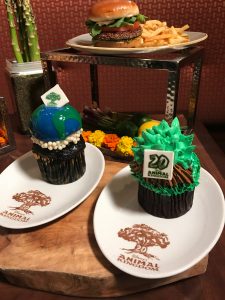 To celebrate Earth Day, Impossible Burger is available as a full burger at Restaurantosaurus or a slider at Nomad Lounge. Impossible Burger is a plant based burger that has the same taste and texture as meat. There are also 20th Anniversary cupcakes.
Also on April 22 was the debut of the newest Walt Disney World show, UP! A Great Bird Adventure. In the show Russell and Dug learn about various types of birds, and the audience learns quite a bit as well.
In Pandora – The World of Avatar, there was a unique addition that debuted on April 22. The Pandora Utility Suit has a pilot that sits ten feet in the air, and it immediately draws a crowd. The times are listed in the Times Guide.