With the end of the night shows at Walt Disney World, you can literally end your day with a bang. To truly get the most out of your vacation, you should try to experience all of them. Check your Times Guide or the My Disney Experience App to see when they will take place. Here's a quick rundown.
Magic Kingdom:
Once Upon A Time is a 14 minute projection show that takes place on Cinderella Castle. It's hosted by Mrs. Potts and Chip, and it features clips from several classic Disney movies. The best viewing area is on Main Street., U.S.A.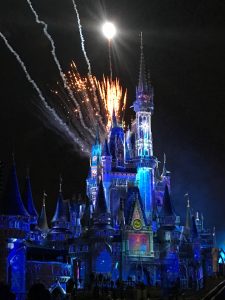 Happily Ever After is arguably the best nighttime show at Walt Disney World. It features fireworks, projections on Cinderella Castle, iconic music, and plenty of Disney characters woven into the story. Expect to be in awe all 18 minutes. The fireworks can be seen from many places in the park, but the projections are best experienced from Main Street, U.S.A.
Electrical Water Pageant is a floating parade of sorts that takes place outside of the Magic Kingdom. It features sea creatures, but then turns to a patriotic theme. Electrical Water Pageant is a bit of a hidden gem because many people know nothing about it. You can watch from right outside of the Magic Kingdom, or from the shores of one of the Magic Kingdom Resort Area hotels. It lasts approximately 15 minutes.
Epcot:
IllumiNations: Reflections of Earth is the longest running nighttime show (not including Electrical Water Pageant) at any Disney Park across the planet. It tells "the story of Earth" using lasers, fireworks, fire, and music. The show lasts about 12 minutes, and there are great viewing spots all along World Showcase.
Disney's Hollywood Studios:
Disney Movie Magic is a projection show that takes on a large gamut of classic movies. The projections take place on the Chinese Theater, so grab a spot along Hollywood Boulevard. Disney Movie Magic lasts ten minutes, and it usually takes place right before Star Wars: A Galactic Spectacular, so grab a good viewing spot and just stay there.
Star Wars: A Galactic Spectacular is not just for Star Wars fans because it is so well done. It features fireworks, lasers, projections, and scenes from the entire Star Wars saga. At times you'll feel like you're in the middle of the scene. The classic score by the legendary John Williams perfectly wraps the 14 minutes all together. Star Wars: A Galactic Spectacular can best be seen from Hollywood Boulevard.
Fantasmic! is a classic nighttime show. It's held in the Hollywood Hills Amphitheater on Sunset Boulevard, and seats go quickly. During the 30 minute show you'll see inside Mickey's dream. It features water screens, live characters, fire effects, lasers, and much more. Fantasmic! is scary for some children, so be prepared to reassure the grandkids that Mickey is only having a bad dream and that everything will be fine.
Disney's Animal Kingdom: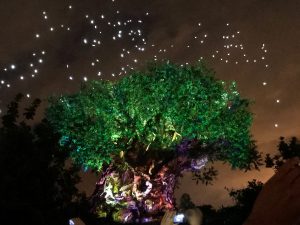 Tree of Life Awakenings are a series of short projection shows that take place on the Tree of Life. You'll see different animals in the tree seemingly come to life every ten minutes or so. Each awakening is short, and the best viewing area is Discovery Island.
Rivers of Life is a beautiful nighttime show that uses boats, water screens, live performers, and an upbeat soundtrack to celebrate "the magnificence and wonder of all living creatures". There are no fireworks because they could scare the animals. Rivers of Light lasts 15 minutes. The FastPass+ line for the Rivers of Light Amphitheater is found in Asia, while the entrance for standby and the Rivers of Light Dining Package are in DinoLand U.S.A.