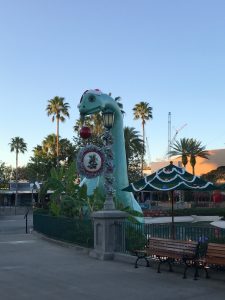 One of the top questions that I hear when someone is trying to plan a Walt Disney World vacation is "what will the weather be like?" Florida weather can be tricky. I grew up in New England and lived in a couple of other places on the East Coast, but I never knew what hot and humid were until I moved to Florida! That said, it's not always that way. Here's a quick rundown on what the weather CAN be like during certain seasons, but remember that there will be fluctuations. Check the ten day forecast before you leave home so that you will have a better idea of what your trip should be like.
Summer
Since most people travel during the summer, I'll start there. Summers in Central Florida are hot and humid, so keep that in mind when you're planning your Walt Disney World vacation. There will also most likely be a chance of thunderstorms every day that you'll be traveling. Don't let that discourage you. Just because there's a high chance of thunderstorms does not mean that it will rain all day. The storms usually pass quickly and then it will be bright and sunny once again; and more humid. If you're traveling during the summer it's important to take breaks indoors and drink plenty of water, because the heat can drain you.
Hurricane Season
One thing to keep in mind when planning your vacation is the Atlantic Hurricane Season runs June 1 through November 30. That doesn't mean that you shouldn't travel during that time, but you might want to look into buying travel insurance. Florida enjoyed a long grace period without any major storms, but that all ended in October, 2016 with Hurricane Matthew. That storm caused more damage elsewhere, but there were curfews in some Central Florida counties which affected the theme parks. In September, 2017 Hurricane Irma hit Central Florida with much more force, but the area was prepared. If you're planning your vacation and there is a Hurricane Warning don't panic. Walt Disney World has a hurricane cancellation policy, and they will also keep everyone who is staying on property safe.
Fall
In early fall the hot and humid conditions stick around in Central Florida. There's still a good amount of rain, and the storms often last longer than the summer storms. October can be all over the place in terms of weather. Some years it's mostly dry, while others the rain hangs around. Things are usually a bit drier in November, but the temperature can bounce up and down. That said, November in Florida is often still quite warm compared to most of the country. Early December is the same way.
Winter
Winters in Central Florida are why people like me put up with the hot summers. There is usually little rain, NO SNOW, and the temperatures are comfortable. There will be some cool days, and it does sometimes go below freezing at night. Cooler weather also usually means that the area water parks will not be open during the day. The closures will most likely affect only a couple of days, because cold spells don't usually last long. Another thing to keep in mind during early winter is that the parks go all out for Christmas each year. The decorations go up in November, and they stay up through the first few days of January. The weather is often close to perfect at that time of year as well.
Spring
The weather in early spring is often beautiful. The days are warm, and it cools down a bit during the evenings. There are plenty of days where there is a low chance of rain. The closer you get to summer, though, the higher the rain chances go. Quick showers aren't uncommon in late spring, but they're usually followed by rainbows. The humidity starts to roll in partway during the spring as well. Spring also brings great beach weather, so you might want to extend your vacation by a day or two.