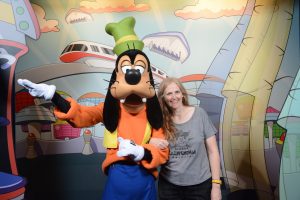 I've been to theme parks where the lines for characters are filled with children. When it is their turn, the parents or grandparents then step back and take a quick picture. The adults don't get involved. Is it like that at Walt Disney World? Are the characters just for kids? Fortunately the answer to that is a resounding NO! Walt Disney World is for the kid in anyone, and characters are an important part of the overall experience.
In the four Walt Disney World theme parks you'll find characters all over the place. Meet and greets are marked on your park map, and you can also find them on the My Disney Experience App. FastPass+ is available at some locations, while for others you'll need to wait in line. Some greetings are indoors, while others are under the hot Florida sun. Mickey is found in all four parks, and each experience with him is different. Getting four pictures with Mickey can be a fun part of your Walt Disney World vacation.
Don't ever feel like you have passed the age where you can justify getting a picture with a character, because that just won't happen. I do character pictures fairly often, and my daughter Tricia will often join me. It's fun, and the interaction is a great experience.
If you don't want to wait in line to meet characters, make a reservation for a character meal. There are many different options to choose from, both inside and outside of the parks. At a character meal you will be able to fill up on delicious food, and the characters will come to you. For some people it's a little less intimidating. It's also a great way to introduce small children to characters, who can seem larger than life and scary to young children.
At most character meet and greets there will be a PhotoPass photographer on hand to snap a few pictures. You can then see them later in the My Disney Experience App. If you purchase Memory Maker, the pictures will be included. If not, you can buy the pictures without the watermark. I'm an Annual Passholder and Memory Maker is included with my pass, but I will usually also ask the photographer to snap a few pictures with my phone, just in case. If there is no PhotoPass photographer there, the character attendant will take the pictures for you.
If meeting characters isn't your thing, there's no problem with that. Just don't ever think that characters at Walt Disney World are only for children. If you want that picture, go for it. You'll be surprised by how much fun meeting characters is.